Welcome to my website, I hope you enjoy it.
My new exhibition - City of Light - opens at Hogan Gallery, 310 Smith Street Collingwood, Melbourne on the 19th of June 2014 from 6pm.
A series of paintings inspired by our year spent in Paris, I hope it will offer a unique view of an iconic city.
I hope you can make it along to the opening night, but if not the exhibition runs from the 16th to the 30th of June.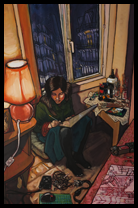 So, here's a little picture of Monique in the studio/apartement.
More images can be found in the 2014 Gallery I will be adding more shortly.
And for some slightly out-of-date but hopefully still interesting diary-like snippets of what we got up to, you can still read my blog posts from the time here.
E.
May 2014
Bonjour,
Je fait un petit exposition au Paris bientot:
Du 20 Aout au 7 Septembre avec un vernissage/finissage au le 4 Septembre a 19h30.
Aux Petits Jouers - 59 Rue Mouzaia, 75019 Paris. Metro Place de Fetes.
Je pense et j'espere que sera un bon exposition, donc si vous_etes en Paris...
Il_y_a qualque foto de les nouveau tableau ici
Eric, Aout 2012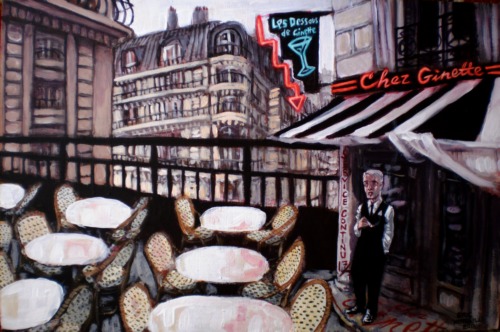 M & I leave for the olde worlde very soon. Woo hoo. I may not have much opportunity to update this site over the coming year but I hope to post some of the inspiring things we see on my blog as time goes by. A link to the blog can be found in the menu to the left or just click here. Similarly, I may post new updates on my Facebook page.
Hope everyone has a good year.
E.
March.2012